Get Custom Embroidered Shirts, Hats & More Fast
Discover the convenience of getting custom embroidered shirts, hats, and more with lightning-fast turnaround times. At our shop, we specialize in delivering high-quality, personalized apparel that captures your unique style and brand. Whether you're looking to promote your business, create custom team uniforms, or add a personal touch to your clothing, we've got you covered. Our dedicated team works efficiently to ensure fast production without compromising on the quality of our craftsmanship. Experience the joy of receiving your custom embroidered items quickly, allowing you to make a bold statement and stand out from the crowd in no time.
Our Embroidery Services Process
Embroidery services involve the art of stitching intricate designs, logos, or text onto fabric surfaces, such as shirts, hats, or other garments. This process adds a professional and personalized touch to the items, making them unique and eye-catching. Embroidery utilizes specialized machinery that combines threads of different colors to create detailed and durable designs. The process typically begins with digitizing the artwork or design, converting it into a digital embroidery file. Then, the fabric is hooped or placed onto a specialized frame, allowing it to be securely held in place during stitching. The embroidery machine, guided by the digital file, precisely stitches the design onto the fabric, creating a finished embroidered product.
Step 1
Design Preparation:
The first step in the embroidery process is preparing the design. This involves converting the desired artwork, logo, or text into a digital format compatible with embroidery machines. Skilled professionals use specialized software to digitize the design, determining stitch types, color placement, and other details.
Step 2
Fabric Hooping:
Once the design is ready, the fabric that will be embroidered is hooped. This involves stretching the fabric taut and placing it securely within a hoop or frame. Proper hooping ensures stability and prevents fabric movement during the stitching process, resulting in accurate and precise embroidery.
Step 3
Embroidery Stitching:
With the design prepared and fabric hooped, the embroidery machine is set up and ready for stitching. The digital embroidery file is loaded into the machine, guiding its movements. The machine then automatically stitches the design onto the fabric, following the specified stitch types, colors, and patterns. Skilled operators monitor the process, ensuring the quality and accuracy of the embroidery. Once the stitching is complete, any excess threads are trimmed, and the embroidered item is carefully inspected for any necessary touch-ups.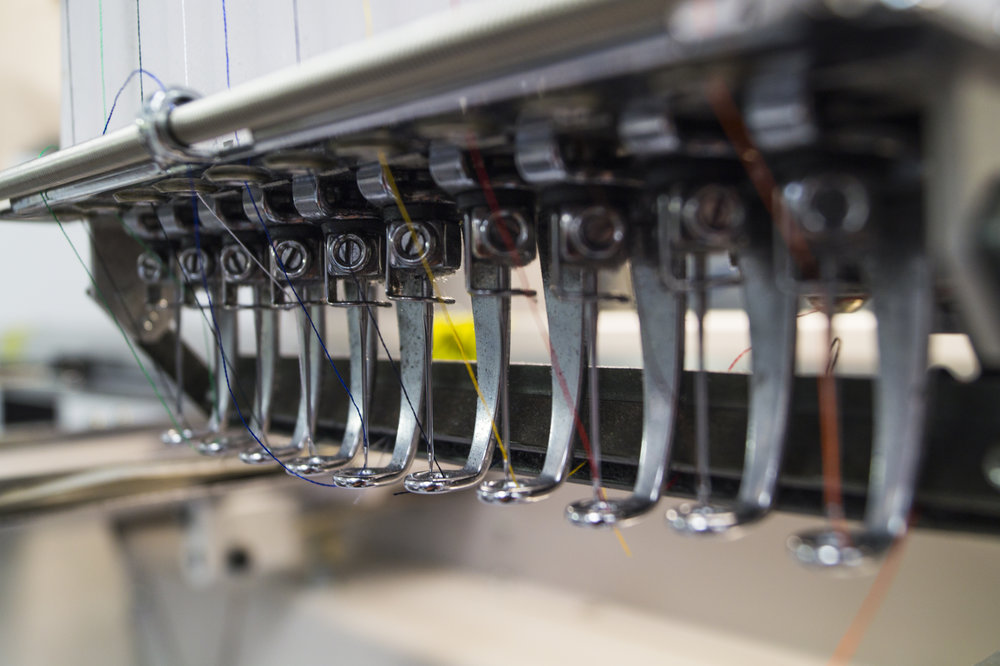 How do I place an order for Embroidery?
When considering placing an order for embroidery, please note that we have a minimum requirement of 25 items. For personalized assistance and to discuss your specific order requirements, we invite you to contact our team directly at 514-336-3443. Our knowledgeable staff will be delighted to assist you and provide any guidance or information you may need. Alternatively, if you prefer email communication, please feel free to reach out to us at info@tshirtexpressmtl.com. We are committed to ensuring a seamless and satisfying experience as you place your embroidery order, and we look forward to serving you with the utmost dedication.